Beruta - Hallberg-Rassy 31 Monson
The dream comes true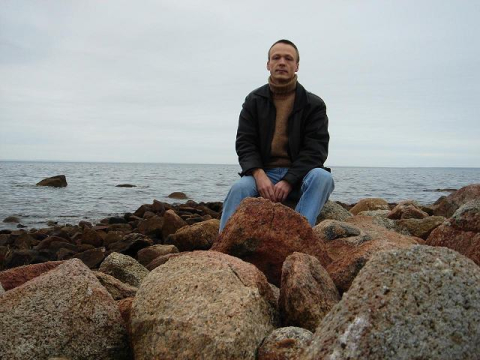 After spending two and a half years building Bruce Roberts steel Voyager 388, Arcadia (for all details see http://sailboat.creatica.org/) I had to sell the almost finished hull due to the divorce and the division of a matrimonial property. Well, it was sad, wasn't it? But the world did not end at that time. A few months later I recovered and start looking for purchasing a used fiberglass sailboat.
After reading multiple reviews (Sailnet, BoatUS) on blue water cruisers, studying the specs of the famous Mahina list's boats, I concentrated on two models, both of the same make, Swedish reputable boatbuilder, Hallberg Rassy, 35-foot Rasmus and 31-foot Monsun.
They both have solid fiberglass hull and polyvinyl cellular plastic cored deck, a long keel with a cut forefoot and a keel-attached rudder. Rasmus comes with two sail plans: a ketch and a sloop. Monsun is just a sloop. Both were manufactured in 1970s under Lloyd's supervision for "hull molding certificate". Both are known as excellent offshore passagemakers/circumnavigators. Monsun was a bestseller. There have been almost a thousand boats produced from 1974 till 1982.
There is a short story of "Golden Lady", the first Monsun owned by Kurt Bjorklund, who circumnavigated the globe three and a half times on Hallberg-Rassy's web site. The boat is now in Raa Museum in Sweden.
Planning to be a single handed sailor, I decided on a smaller boat. My short list of Monsuns offered by various online brokers ranged from 1974 to 1979. The asking prices were from $25,000 to $50,000. The boats were all over the world: Netherlands, Germany, Croatia, Turkey, Sweden, Scotland, Italy, Canada and US. I negotiated with the most dealers and ended up buying the simplest cheapest and oldest boat in the USA near Boston, named Moonwind. I called her Beruta.
Beruta is Hallberg Rassy 31 Monsun, designed by Olle Enderlein and built in 1974 in Sweden. The hull number 66. Here is her spec: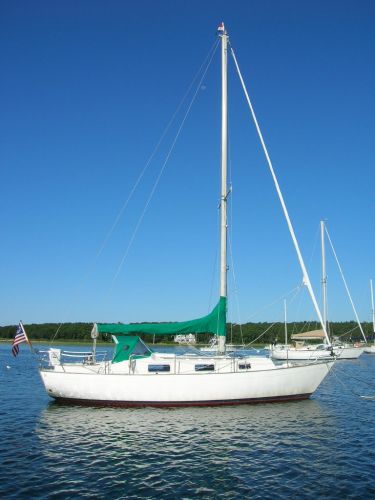 L.O.H.

9.36m (30' 9")

L.W.L.

7.50m (24' 8")

Beam

2.87m (9' 5")

Draft

1.40m (4' 7")

Displacement

4.2 ton (9,250 lb)

Keel weight

1.9 ton (4,200 lb)

Sail area with jib

39 sq. m. (430 sq. ft.)

Engine

Volvo Penta MD 11 C (17 kW / 23 h.p.)

Diesel Tank

120 litres (32 US gallons)

Water Tank

160 litres (43 US gallons)

Transport height without windscreen

3.17 m (10' 5")

Transport height with windscreen

3.54 m (11' 7")
Rigging Dimensions:
P (main sail luff length)

10.00 m (from HR sailplan and sailboatdata.com)

E (mail sail foot length)

3.50 m (from HR sailplan) / 3.51 m (from sailboatdata.com)

I (mast height)

11.24 m (actual) / 11.52 m (from the deck according to sailboatdata.com)

I2 (inner forestay height)

10.43 m (actual)

J (the distance from the forestay pin to the forward end of the mast)

3.66 m (from HR sailplan) / 3.63 m (from sailboatdata.com)