Indonesia Vacation
Bali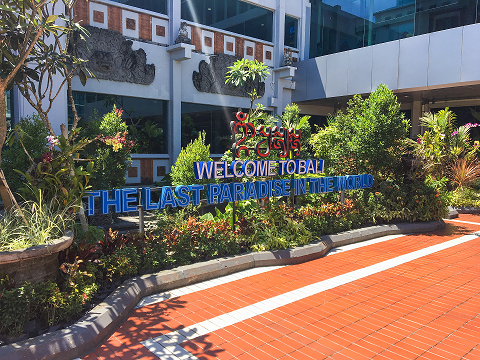 The last paradise in the world?
As I haven't planned to sail to Indonesia on Beruta, I decided to visit these popularised islands when the company I worked for in NZ kicked me off for two weeks of vacation during southern hemisphere winter time. Initially, I had wanted to go skiing on the South Island but then suddenly changed my mind and bought a non-stop Emirates airplane ticket to the "last paradise in the world".
Once this was done, I began planning the trip a bit. The first thing that came to my mind was diving Komodo. It's just another hour to the first nine, from Despansar to Labuan Bajo on East Nusa - the starting point of most Komodo National Park liveaboards. I managed to book a 5-day trip on a traditional Indonesian sailing ship Jaya after 7 days of my arrival to Bali. I also had 3 days left before my flight back home.
So, I decided to spend the first five days exploring Bali and the last three - the neighboring island Lombok. Besides scuba diving, another attraction was surfing. Well, I'm not talking about the "massage". Anyway, the latter was not on my list.
I'm a beginner in surfing, so all barrel spots were out of the scope and I settled on two beaches: Batu Bolong in Canggu and Medewi. Then besides these two, I booked four more places to stay around the island: Lovina, Amed, Candidasa and Ubud. That should have covered the majority of the island.
Now, the transportation. At first, I wanted to rent a scooter. I had found a day before my flight that driving a scooter required an international driving permit. Luckily, despite the 3-to-5 day estimate published on NZ information web site, I was able to get it the same day at AA centre in Auckland. I had requested it for driving a scooter but for the obvious reason, they could only have issued it for a car. That actually played a needed role of detoxifying my idea of driving a scooter with a 20kg backpack in busy streets where traffic was controlled by an intuition and common sense rather than formal road rules.
So I rented a car.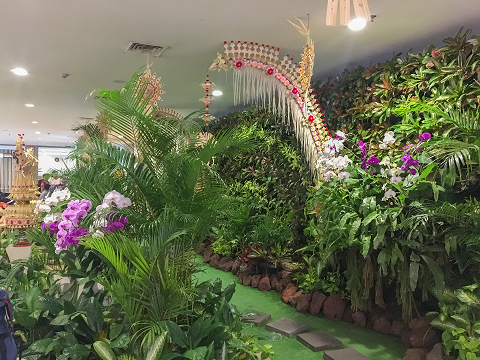 Day 1. Arrival
My first surprise was the absence of a car rental sign in Denpasar airport. I hadn't seen such airports before, well, except old days back on Russia. The confirmation email read that upon my arrival I needed to call the rental company who would then send an agent with a sign in my name to meet me at the airport exit.
There were hundred of signs there! I'm not exaggerating. So I had to call twice and waited for about 20 minutes before the agent came and found me near the information desk. After another 20-30 minutes of going through the rest of car renting formalities and struggling of finding the exit, I finally hit the streets of Kuta.
Google Maps estimated my drive to Canggu of 1 hour. I probably spent an hour and a half getting there in the dark between scooters passing me on both sides.
The room was good for 300,000 rupiahs, roughly $31 NZ dollars, the average price for a good camping in NZ with a hot shower.
Day 2. Surfing and Botanical Gardens
The beach was a 5-minute walk from my room. I checked the waves and decided to come back after a breakfast. Nearby cafe had typical Bali's morning food - eggs, pancakes and coffee. There were lots of dogs in the area and some not friendly, if not to say aggressive. The word that came to mind after my poor experience with Polynesian dogs, was rabies. So I checked with Google and indeed, this fatal virus was known in Bali and hundred thousands people got bitten, a few got sick, some of them died every year, according to the local statistics, not counting tourists that left the country. It made sense to vaccinate before coming to Bali. I had to be careful with dogs to not ruin my vacation by a number of visits to a hospital for vaccinations.
The surfing was good in much warmer than in NZ waters but I was too old for it. I got tired after swimming long way outside the breaking line. It was good ride all the way to the shore but very little power left for the second ride. I did it twice and gave up.
Instead of going straight to my next Hidden Surf Villa in Medewi, I headed north to the mountains. I wanted to see Botanical Gardens. I didn't know that there was Hindu ceremony in a nearby temple and the last Sunday before the school. The road was packed. Instead of 1.5 hour, I spent 3 and another 4 to get to Medewi. I was about to change my tickets and return to NZ for skiing.
Moreover, in Medewi I was not able to find the villa that I booked through booking.com and when I asked in the second bar, the lady lied to me and said that it was there. I realised this scam only next day when she charged me a different price that I was supposed to pay, and received a complaint from booking.com for not showing up.
I came to Bali thinking good of local people and was disappointed by this incident. The old lady should have been ashamed for the Bali people.
Well, maybe not. People are people. There are always good and bad ones regardless of the country. Because in general the population of Indonesia is poor, the locals look at "wealthy" tourists as bags of cash begging to buy this or that, and such experience is always unpleasant.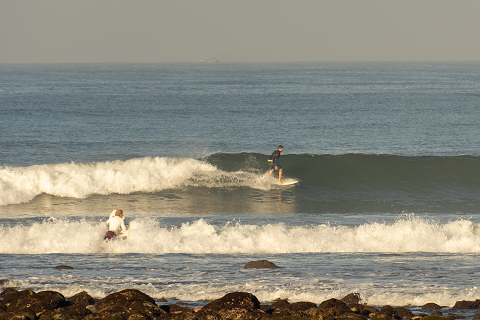 Day 3. West Bali National Park
The surfing in Medewi is probably better than in Canggu but is for advanced surfers. The beach is also rocky, so it is not easy to get in and out of water with waves breaking on the big round boulders. I did not surf there.
Instead I drove all the way to the west towards West Bali National Park, attracted by a Google map sign "bird watching tours". Not that I was a big fan of birds but I thought that it was a good opportunity to explorer the park. The 1-2 hour trekking tour is quite expensive - I paid 750,000 rupiahs, most of it was the entrance fee for the park. My guide was a local young man who had been working for the park for the last four years and studied all the birds by books. He had very sharp eyes and showed me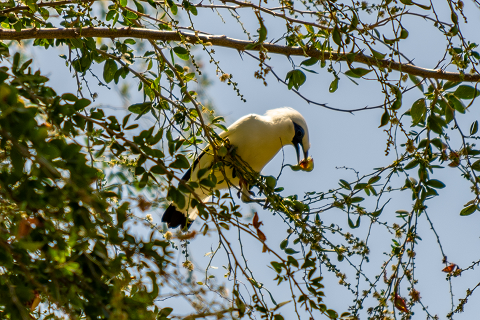 many species, among which were a famous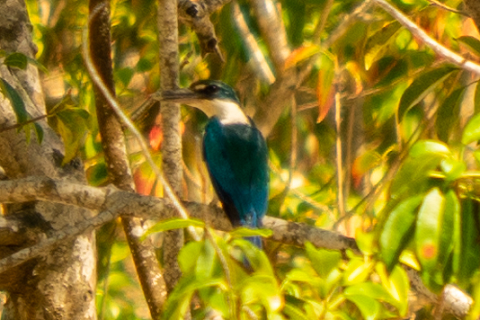 King Fisher and a unique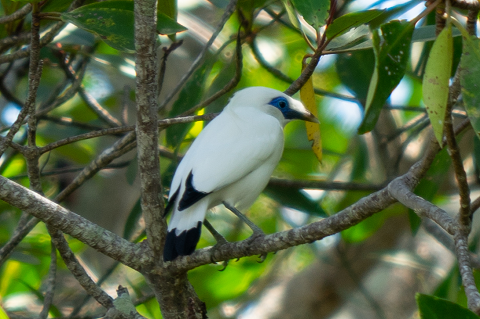 Bali Starling. We also saw rare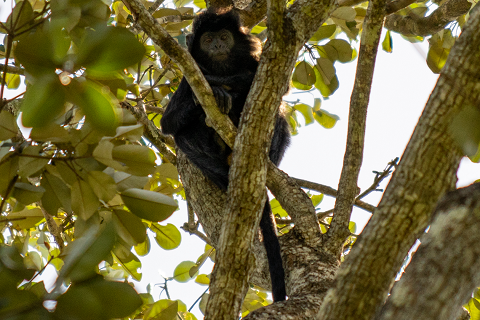 black monkeys, deers, a glimpse of big varan, which I was told was not as poisonous as Komodo dragon,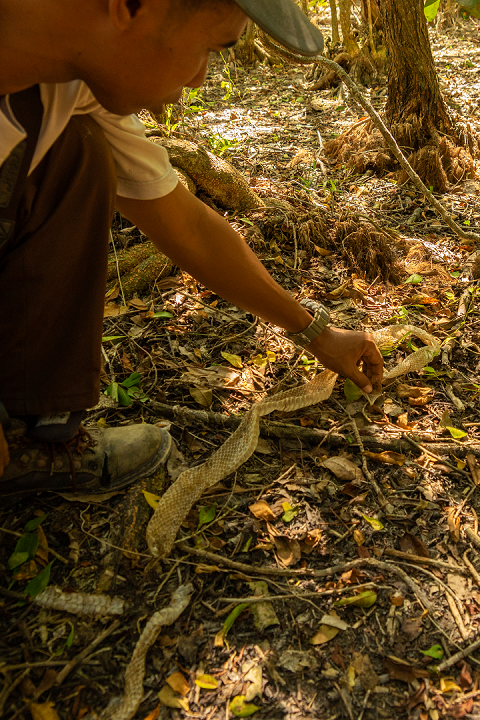 a Cobra's skin and heard a wild pig in the bushes. I couldn't call it jungles. It was a dry season in the monsoon forest. Later we witnessed a battle between a small varan and a kitten. If not our appearance, the poor kitten would have been killed by this dangerous lizard.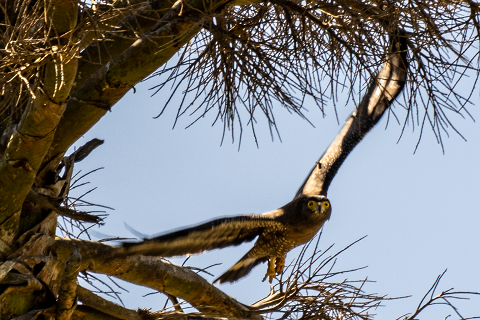 My guide wanted me to be happy and offered an assistance with booking a diving in Menjangan Island but all the boats had already left the bay. I gave him 100,000 for his efforts and drove for 2 hours to Lovina where I stayed one night at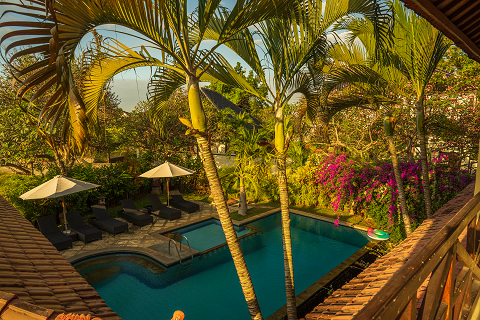 villa Jaya - beautiful hotel with a swimming pool surrounded my gardens - tranquil and quiet, a place to relax and re-think of Bali as a paradise. I watched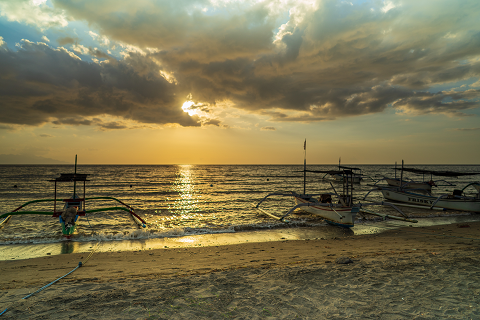 sunset, had a dinner in a beach restaurant with a local band playing western hits.
Of course, I was sold a diving trip to Menjangan Island for the next morning.
Day 4. Menjangan Island
We drove back to the same bay where I was yesterday, in a minibus. There were 2 people in my group, both the beginners. We made two dives on the opposite sides of the island. It was ok but nothing exciting. We got back to Lovina at 6pm.
I came to Amed some time after 8pm where I booked a room at Sudi homestay right on the beach. The receptionist offered me to grill mackerel on a beach fire for free but I didn't want to exploit his hospitality too much and ate in the nearest bar. He insisted on the welcome fruit cocktail though.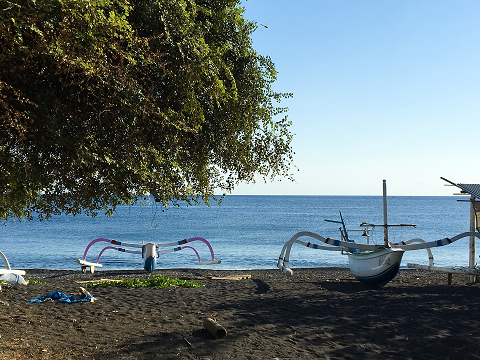 Day 5. USAT Liberty Wreck
There was a dive center in Amed where I planned to get some info about diving famous USAT Liberty shipwreck torpedoed by Japanese submarine during WW2 and beached in Tulamben but I missed it and ended up booking my dive 5 minutes away from the site. The ship was sank by volcanic eruption in 1963 and became a dive site since then, according to Wikipedia. I had a personal guide for two dives, paid 450,000 for each. The wreck was definitely worth a few dives! So much to see (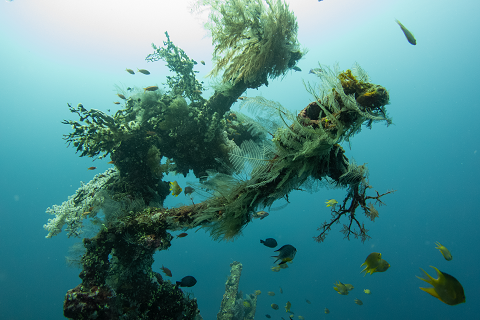 gorgeous soft corals,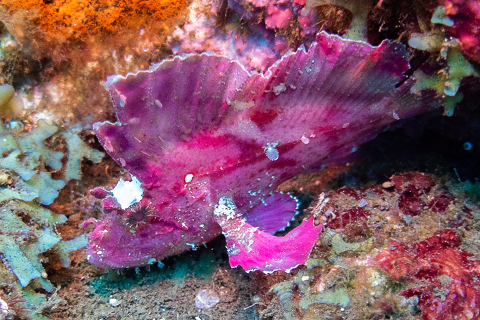 leafy scorpion fish,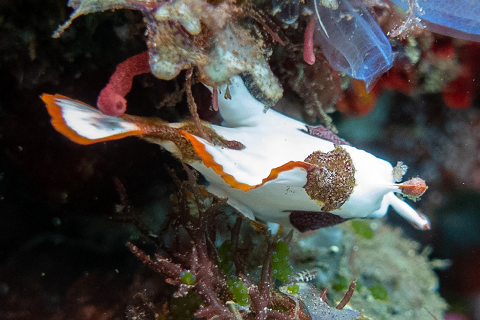 frogfish,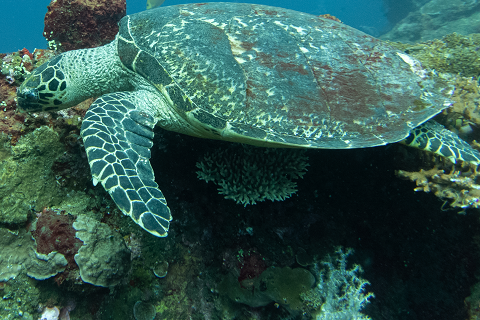 a green turtle), excellent visibility, better than in Menjangan Island. We used 31% nitrox, so spent almost an hour for each dive at around 22-25 meters. I do recommend this site. We finished near 3pm and I arrived to Candidasa before dark. I booked a night at gorgeous Dasa Wana Resort with amazing gardens surrounding a swimming pool.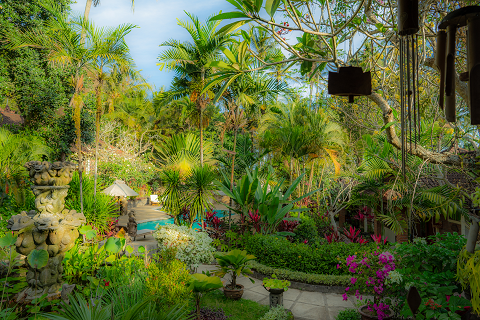 More diving next day! At Nusa Penida.
Day 6. Mantas
The speed boat left Padang Bai before 9am. We had three small groups. I again had a personal guide! And he was an instructor! Other two guides had called themselves divemasters but later admitted that they were not there yet. I didn't blame them. It was too expensive for them to pay PADI. They were all very experienced divers though. Our first dive was on the other side of the island at Manta's point. It was Mantas' cleaning station. As expected, the water temperature was 20 degrees there. A vest and a hood saved me. Lots of mantas! Poor visibility though. The second dive was in Crystal Bay for one in a hundred chance to see Mola-Mola, common name for sunfish, one of the heaviest bone fishes in the world. The temperature was 24 degrees instead of expected 18! Therefore, no giant fish. Very strong current. We had to hold for the rocks two thirds of the dive. I was one minute short of deco dive and surfaced with 5 bars of air in my tank. One group abandoned their dive because they were hit by downward current and had to do an emergency accent from 30 m holding each other and inflating their BCDs to fight the current.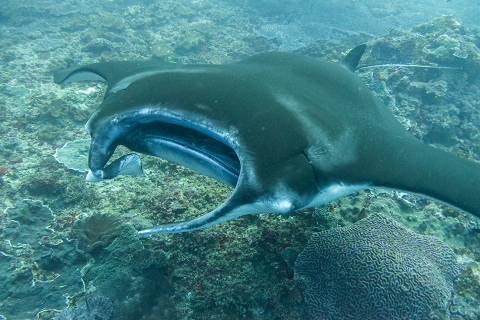 I saw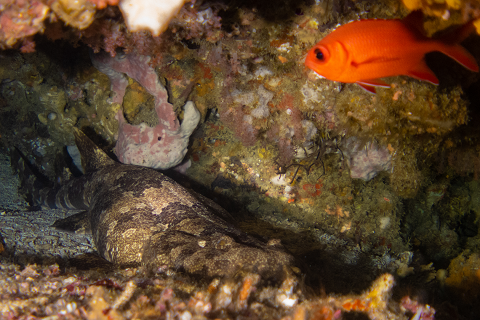 a shark though and a couple of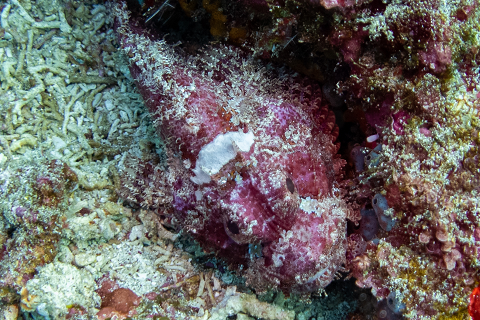 scorpion fish. The picture of a shark was taken with somebody else's light. Mine was far less powerful.
My last night before flying to East Nusa for Komodo liveaboard trip was in Ubud. I got there right before dark and had to leave to the airport early morning, so had no time to explorer the Monkey Forest. I saw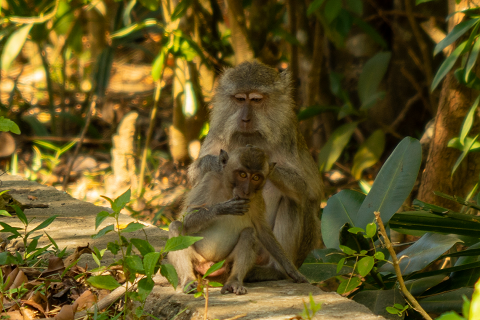 plenty of them in other places though.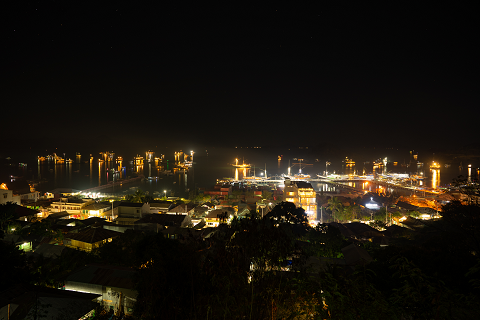 Day 7. Labuan Bajo
Returned the car to the airport, got 1,000,000 deposit back and flew to Labuan Bajo by Air Asia. Checked in the Gardena Hotel for one night and visited Scuba Republic dive centre where I booked my trip. Had to pay 1,450,000 marine park fee for 5 days. There were lots of dive shops on the main street. This village was definitely dedicated for diving and snorkeling around Komodo National Park.
Hadn't seen any dogs so far here. Were they all eaten?
Day 8. Camera flooded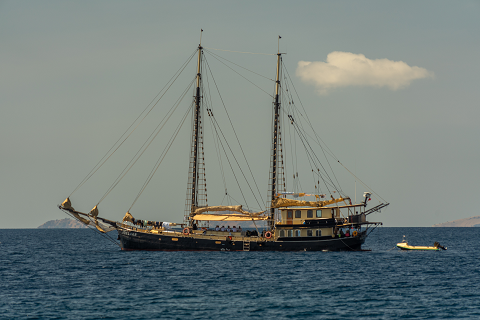 Boarded Jaya shortly after 10. Had a briefing and one dive near Sebayur Kecil island. The sad part of this trial dive was that my Nauticam underwater camera case flooded. The audible alarm system failed. The red light was difficult to see with lots of sunlight. I noticed it only after I saw water on the lens. It was too late. I surfaced and drained the water out before handing the case to the dinghy man. After the dive, I wiped it with alcohol and kept for a day in a rice pot but that didn't help - the camera was dead and the case was still leaking. During my six previous dives in Bali it had worked without a problem as well as for many previous dives in other places. I suspected that the case was damaged in my backpack when it was transferred to Jaya without my attention. Perhaps, it was dropped or other heavy bags were piled over it. I should have carried it with my other camera as a hand luggage.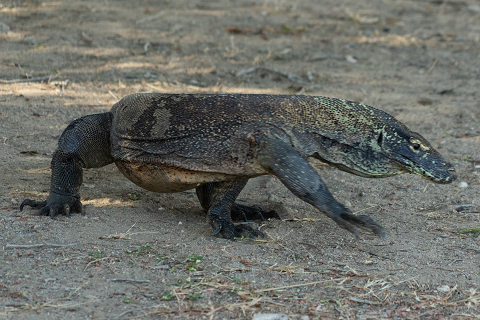 Day 9. Dragons
After the breakfast we went ashore Rinca Island, which was part of the Komodo National Park to see the famous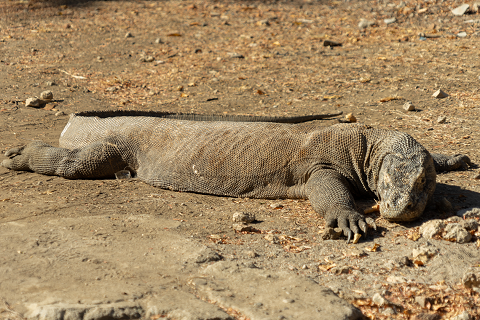 Komodo Dragons. Our guide had a fork-shaped stick in his hand to keep the varans away in case of an attack. Besides dragons, there were also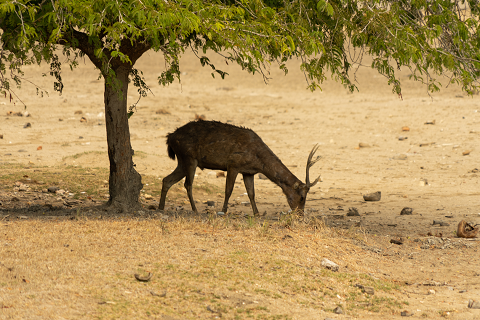 deers, buffaloes and some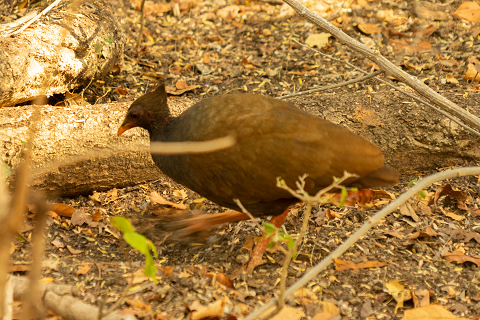 birds similar to NZ kiwis. There used to be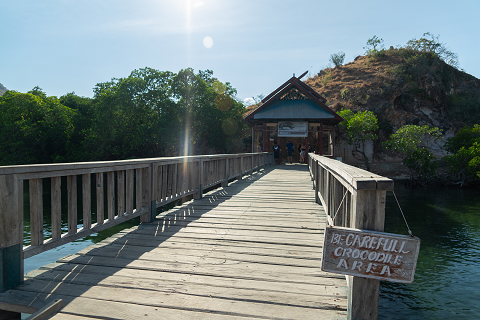 a big crocodile in the river but the locals hadn't seen him for some time. We did three dives: 2km drift along Mauan Island, then near Siaba Besar Island day and night dives. I was slowly recovering after the loss of my Sony R100M2 camera as there was not much to do under water except trying to enjoy the diving without the photography.
Day 10. 4 dives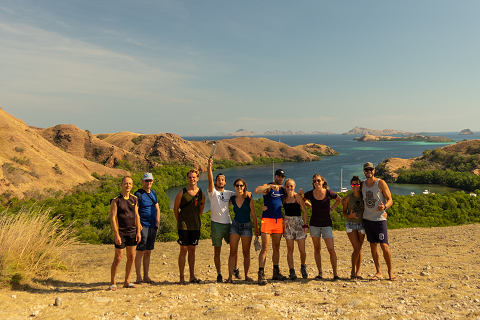 We did four dives: Batu Bolong near Luwu island, Macassar near Gili Macassar, in Golden Passage between Komodo and Gili Lawa Darat islands including the night dive in a protected from the swell bay on the north-eastern part of Komodo where we anchored overnight. We had 10 people aboard: 9 divers and one snorkeler divided in three groups. Two of them were guided by Canadian instructors Rachael and Erica, and the third one by the local "divemaster" Unis.
I was in Erica's group together with David (next to me on the photo), British forensic analyst, who worked in Singapore for the last two year and a master student from Denmark, Mathias (next to David).
In other groups there were a couple from Hawaii Chase (also an instructor) and Ali (on the right), a teacher from my favorite Vancouver, Emilie (next to them), a British couple Tom (soon-to-become a diver) and Katherine (next to Emilie) and a just-married lovely couple from Paris, Max and Lucie (in the middle). All young people.
Because of possibility of strong currents, one of our guides checked the site before a dive and reported the conditions to us during a briefing.
We had two dinghies ready to pick us up if we had been drifted by the current. Everyone had an inflatable surface marker to help a dinghy man to find a person.
All briefings had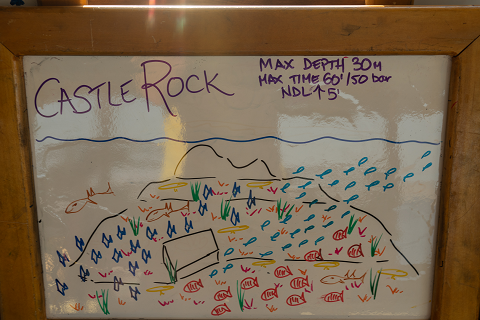 a hand-written colourful topographical site map. All dives except the night ones were an hour or longer, maximum depth varied from 15 to 30 meters. Visibility was over 20 meters and water temperature was 27 deg C.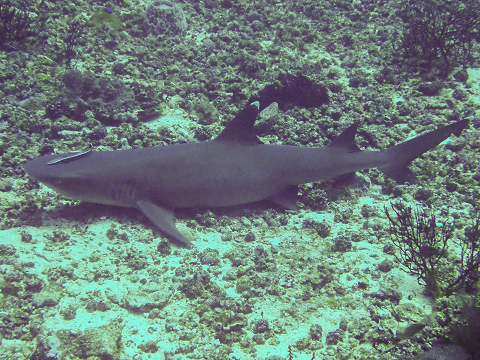 Despite tropical water temperature, I used my 3mm vest and 5mm hood and boots with 3mm full body wet suite. Even though I felt chilly because most dive were drift ones, I had no camera to chase the fish and white tip sharks were not bigger than me to chase me. Most of the time they tried to swim away from divers except the last dive when the weird shark went towards us.
The night dive's highlight was a frog fish that Erica spotted during her snorkeling check in daylight. It moved, so we spent the majority of the time searching for it in shallow water (3-5m). I also spotted tiny scorpion fish.
Day 11. The Castle, Crystal Rock and The Cauldron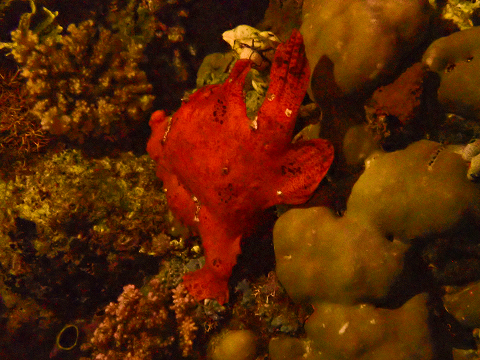 This day we dove on the northern side of Gili Lawa Darat Island. The Castle and Crystal Rocks reminded me of Richelieu Rock in Andaman Sea between the Similan Islands and Kao Lak cost of Thailand, the best site I had ever dived in my life. The Cauldron was in the straight between Gili Lawa Darat and Gili Lawa Laut islands. There we had been supposed to drift very fast but it was compared to water pistol's rather than a real shotgun's shot. Still fast.
Day 12. China Shop
That was the last dive: the same place as Cauldron but we drifted the channel from the opposite direction. I spent few minutes watching Giant Green Moray Eel cleaning its teeth, lost the sight of my group but soon found them. Luckily, nobody followed one minute rule and surfaced.
Other underwater creatures of the Komodo National Park that I was lucky to see were: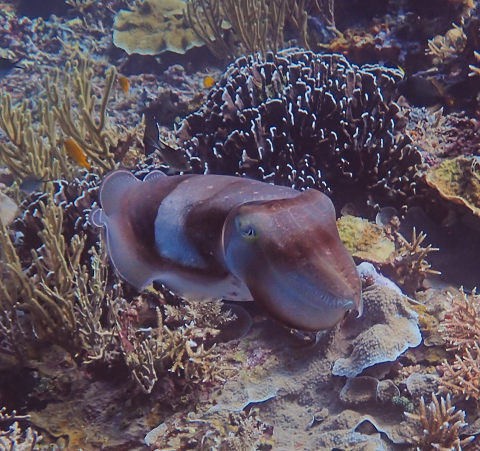 squid-like cuttlefish,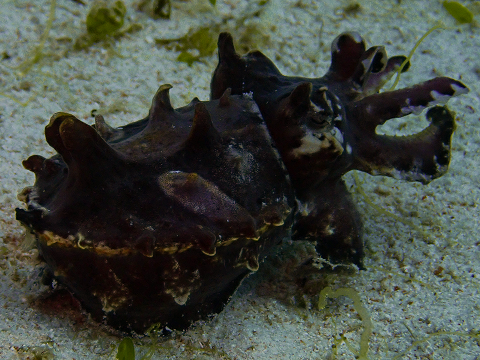 funny flamboyant cuttlefish, lots of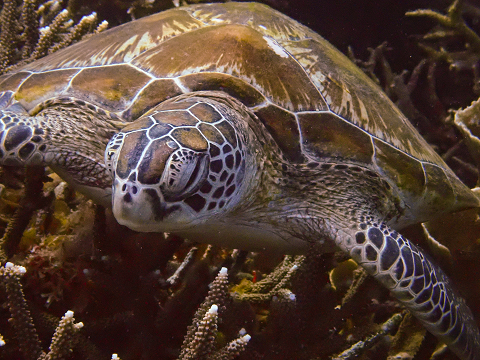 green turtles,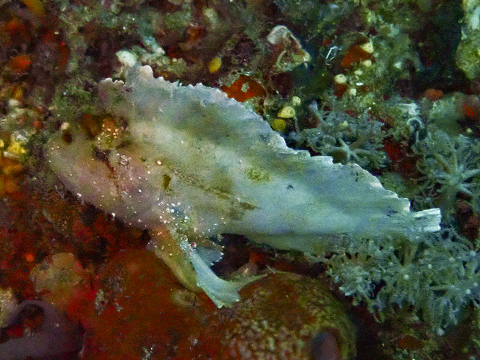 white leafy scorpionfish,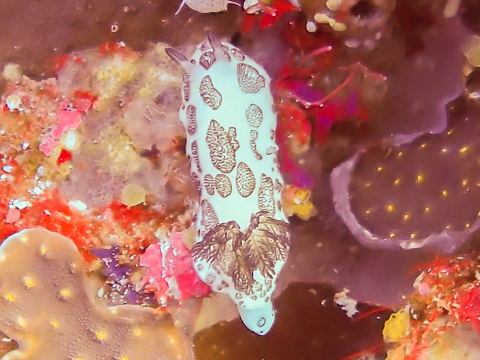 amazing colourful nudibranches.
We returned to the harbour by noon.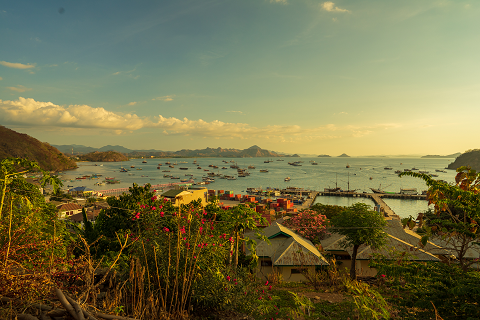 We had been motoring for all 6 days. Apparently, the sails were mostly for a decoration to attract the tourists. I had been promised that on the last day, we sailed but it didn't happen. The excuse was a strong current and light winds. The constant noise and fumes from generators and a diesel engine were a bit annoying to a sailor like me. The fumes compressed into our scuba tanks caused headaches to some people, including me on the first dive. Most people used rental equipment and did not care about rinsing them after each dive. I was allowed to rinse my regulator but not the BCD. For these reasons, I would not recommend Jaya to other divers until they address these issues. I had paid 240NZD per day, so it was not cheap and did not include 150NZD marine park fee, nor mandatory dive insurance. At the end of the adventure, we were asked for $50USD tips for the crew and separate tips for the guide. The beer was at a standard restaurant price 50,000 rupiahs but I thought the can size was smaller than a 1-litter bottle.
I asked Rachael why there were no cruising boats in the area. She said it was too expensive because of the park fees. I had thought because of the piracy but it was hardly to imagine such thing here. Other thing was strong currents. It would be risky if not impossible to dive in these waters alone.
Later we all met for a dinner at a fancy Italian restaurant called "Made in Italy". Only David and Ali could not make it as well as our guides, they were probably sick of us.
Day 13. Lombok
My flight back to Bali was at 14:40, arriving 15:50 and the flight to Lombok in one hour. I had been afraid I could miss it because all landings were delayed in the busy Denpasar airport. Max and Lucie were on the same flight. We met David at the airport heading home to Singapore via Jakarta.
Air Asia flight to Bali was delayed by about 20 minutes. When I got my luggage, my Lion plane was supposed to take off but it was also delayed by two hours! So I was lucky and did not miss it. It took only 20 minutes to Lombok Praya.
Taxi to Kuta cost me 120,000. The time to get there was about 30 minutes. There was no traffic in Lombok! What a difference compared to busy Bali!
By the way, the welcome sign at the Denpasar airport said "The last paradise in the word". I thought that had been true 30 or so years ago. Not anymore. Too many tourists!
I got to Hadiqa Villas at 8:30pm. The hotel manager left home and a local fellow that walked me to my room did not speak English.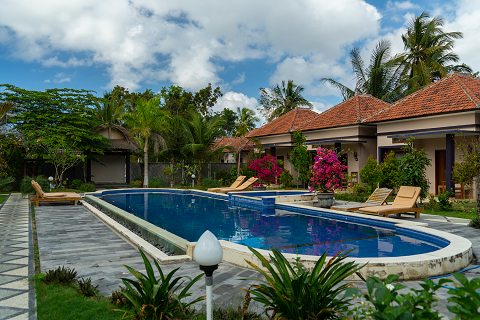 Day 14. Surfing in Selong Belanak
I was told that the best surfing spot in Kuta was Gerupuk, where one would hire a boat to bring him to Don Don in the middle of the bay. The best time was afternoon because the place was less crowded. Since it was only 9am, I headed to beginners' beach in Selong Belanak, which was 30 minutes ride on a scooter. The hotel charged 60,000 per day to rent one, so I did. Honda brand, easy to drive on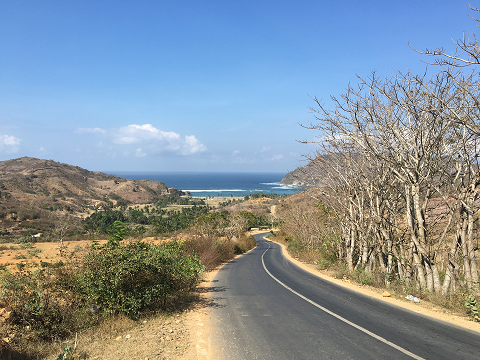 empty roads. I realised half way down to the beach that I did not have a helmet. Later I asked the hotel manager and he said that the police in Kuta did not care, although it was required by law to wear it.
The beach was full of surfers taking lessons from local guys. The waves were breaking right on the beach, so almost no room to surf, 5 to 10 meters at most. I didn't wear the boots and the board was slippery as it was only waxed in two places and I couldn't get my feet right into them.
I ordered fried fish (60,000), orange juice (15,000), which was heavily diluted with water, a bottle of drinking water (10,000) and rented a 7.2" hard board for 2 hours (50,000) at Harry's cafe. Paid 200,000 and was given 15,000 change, saying that they were not very good at math. They gave me 50,000 back and apologised when I insisted to count again. I regretted for lunching on the beach. Eating there was not pleasant because of three dogs sitting around the table and looking at me all the time and the fish was not great either. I would try Don Don tomorrow afternoon.
Had dinner in Colibri restaurant where a guitar trio and a drummer played western songs. Happy hour rule was "buy one, get another one for free", so I had four Mojitos for 150,000.
Day 15. Last
It happened to be a public holiday in Indonesia,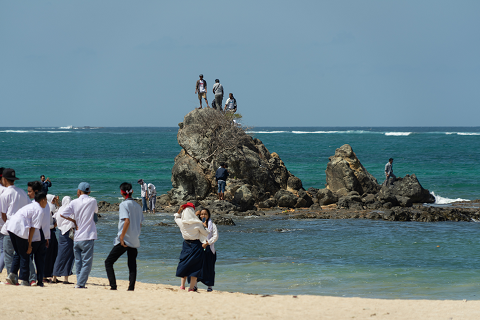 Independence Day. Locals were dressed up and had their flag drawn on faces. Many of them headed to beaches for picnics and selfies. Two boys asked me to have a picture with them.
Curious episode occurred during my breakfast at the hotel included in the price. I ordered the same food as a day before: eggs, a banana pancake, a fresh juice and Lombok coffee. The order was repeated and accepted by a waitress but after 10-15 minutes she brought me everything except the eggs. Hm... I thought they still frying them and decided to wait. After another 15 minutes or so, I checked with the kitchen and was told that eggs were extra! I asked if I could still order them. The answer was "yes". In another 15 minutes, I got them. Alas.
I drove to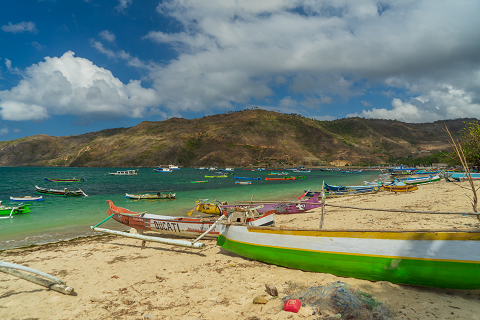 Kuta beach, just to see it.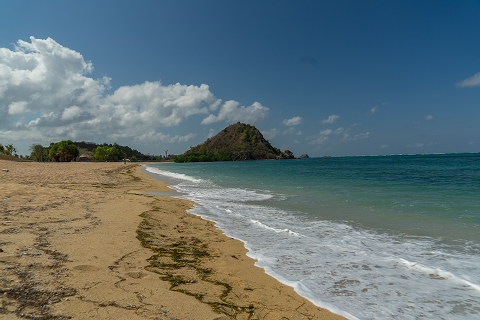 Clean and deserted for the most part, except the western end, which was occupied by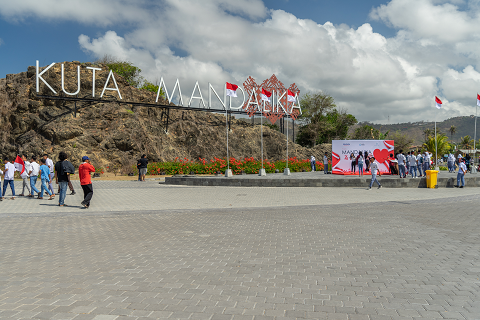 locals celebrating their independence. I parked the scooter in a parking space for 5,000. Went to the beach to make some pictures and when I came back, the scooter was gone! Or my god, on the last day! The hotel manager had warned me that it was not insured meaning that I was liable for anything that could happen to it. Not that I panicked. I thought that might be the guys just moved it to another place because there were cars parked there. Sure enough, they did!
When walking along the beach, I was offered coconut water for 25,000. I had only 50,000. The guy had no change and went away to search for it. After some time he got back with 20,000, saying that nobody had 5,000. Cheap trick, which definitely worked for the guy but my opinion of the Indonesian people worsened.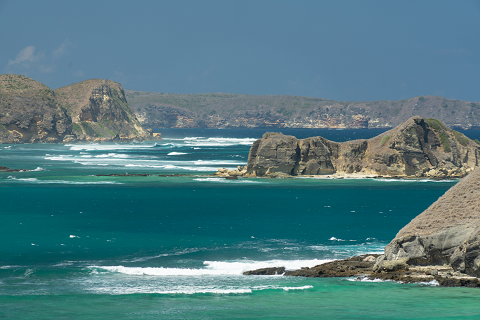 I drove to Gerupuk to see the place. The waves broke very far from the beach and were definitely reachable by boat only. There were couple of surf hotels there, where I could get the information about hiring a boat. Instead I bought two bottles (probably 1,5 litre each) of gasoline for my scooter in the street and continued my exploration of Lombok. Soon I ended up on another beach, Pantai Aan. It was a protected horseshoe-shaped bay with cliffs on both sides. I headed to the west, Merese Hills and ended on one of the cliffs, called Tanjung Bongo with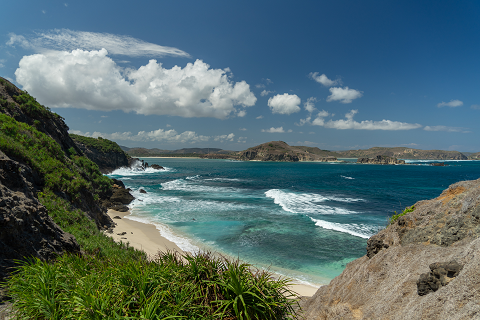 picturesque views.
Saw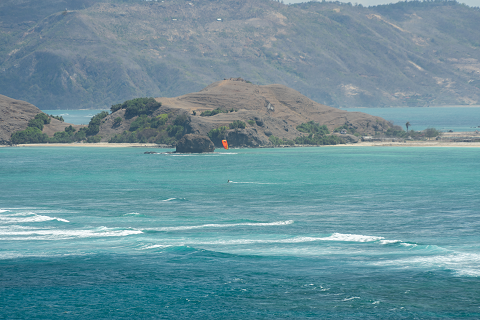 a couple of kite surfers off Elizabeth beach. It ought to be a good place protected from big waves by fringing reefs with 15-20 kts on-shore wind and long sandy deserted beach. There were just two surfers there! It must have been a paradise for them! The pure surfers were in the middle of the same bay where I left my scooter. I supposed that they were brought there by a boat too. It was still lots of paddling for them and very little time for rest because the wind and waves were pushing them back into the break line. I couldn't wait the day when surf boards had an electric motor to help a surfer to get through the breaking waves and perhaps even on the wave to ride down.
Day 16. Flying home
Hadiqa Villas continued surprising me. A day before I had confirmed with the hotel manager that checkout time was 7am meaning cheating on the included breakfast because it started at 7:30am. At 7:00 the reception was closed. My taxi to the airport had arrived and was waiting for me. The "security" guy called the manager and he told me to pay cash to the guy, although if I had wanted to pay with a credit card, there would have been no such option at that time. No receipt was given either. In theory they could have said to bookings.com that I left without a payment and I would have had no means to prove it otherwise. A poor undeveloped country, all I could think of.
All pictures from Indonesia are on Google Photos