Painting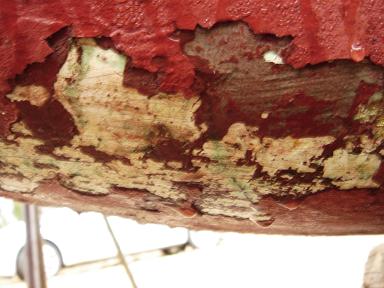 December 2008. Blasting is a must
Beruta needs soda blasting of the bottom, then a few coats of epoxy painting - a peace of mind for blister prevention and antifouling as well as topsides painting.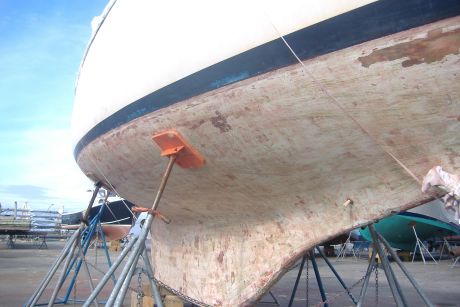 February 2009. Soda Blasting
Niemiec Marine did soda blasting prior to my arrival to the states. In the result, the gel coat got holes in it throughout the entire bottom, here and there. I spoke with a man who did the job and he said that this is normal and in fact I wanted those holes because they are where the blisters were. Hm... Not sure what to think of that. During the survey the hull was shown as completely dry and free of any blisters. I guess it might have been possible for the hull to dry out in couple of months since it was out of water.
Anyway, now the simple bottom painting job looks like much more labour intensive fairing adventure.
March 2009. Fairing
The boat was put inside for the repower at Niemiec Marine and it had been waiting for the shaft and the prop. While it is inside, I am not allowed to work on it supposedly due to their insurance policy. To save time but not money I contracted Niemiec to fair the bottom meanwhile. Peter did a good job with Interlux Interfill 830 epoxy and sanded it. As soon as it's out, I'll start painting with Interlux Interprotect 2000E (4-5 coats) and then put couple of coats of antifouling paint.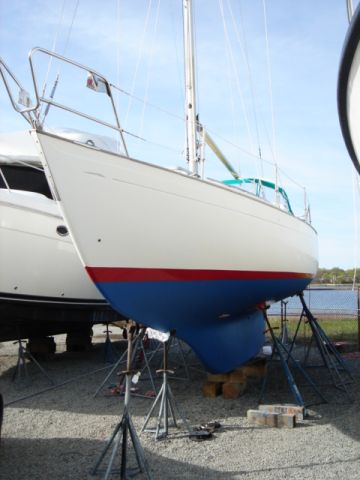 April 2009. Painting
Epoxy barrier coating
Initially I was thinking about brushing but it would have been too slow. Rolling is much faster. When the temperature is around 15-20° C and windy, the epoxy dries very fast, much faster than stated in its spec. It took me slightly more than an hour to coat the entire bottom and one gallon of a mixture is barely enough. I had to roll hard in order to make it.
After the first coat, lots of pin holes from the blasting that had been missed during fairing became visible. David from Niemiec Marine advised about various techniques to deal with them from adding a thinner to using a squeegee or a finger to close them. He said that the thinner was supposed to be used on the first coat but other methods could be used at any time. Applying thicker coats could also help but then I would need to use more than one can of paint. He also said that a finger might have been used with an antifouling paint as well. The finger it is! And it did work, by the way. I used it with the fifth, the last, Interprotect coat. The blue Interlux Micron CSC antifouling paint was applied right after it. The next day the second coat of it was rolled on.
Then the stands and keel supports had been moved and I faired, epoxied and painted under them. Then two coats for the boottop using a special fire red paint that contains teflon.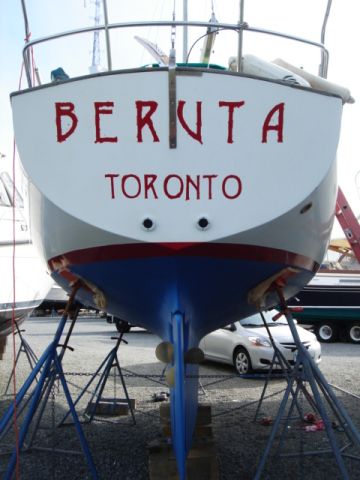 And finally the boat name! Yes, it changed - sorry, old lady Moonwind. Welcome to a new life with a new owner, Beruta!
Some other things that I learned from David:
Never use a masking tape outside. It doesn't like weathering. It took me two hours to remove the tape above the boottop. I highly recommend it as an exercise for impatient people.
A Fine Line tape is a better way to mask a painting area. It is almost 10 times more expensive though.
Use a 3M adhesive remover to get rid of a masking tape glue.
Use On-Off acid to clean the topsides of yellowish rust from sea water that got into a gel coat. What David didn't mention was that although the acid does not react with the gel coat, it does seem to be affecting the antifouling paint, I guess because the later contains copper. I should have been careful with the acid and haven't let it run off below the waterline. Had to repaint the bottom, well, just a portion of it. It might have just discolored it but I didn't want to be ashamed by fish. Yes, perfection never ends.
Interior painting
I used white enamel to paint the fibreglass interior exposed after I removed the liners and the sticky wall papers - two coats.
I sealed and then varnished the mahogany bulkheads in the head compartment. A wardrobe is reassembled there. A shower will be in the cockpit for now.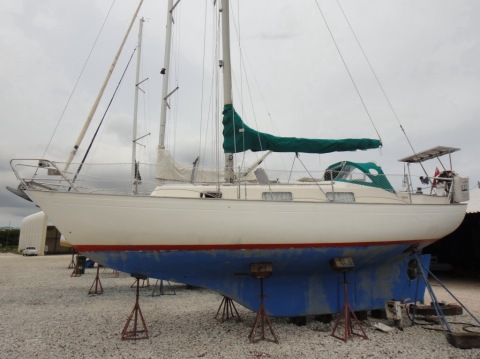 New Antifouling
It was exactly two years after I painted the bottom of Beruta with Interlux Micron CSC. This paint did not serve her well. Perhaps, it was not meant to be used in tropical waters, who knows. I had to wash the bottom as often as every week to one month depending on the place where I anchored. With every wash less paint had been left on the bottom.
This time I decided to try what most people recommend here in tropics - SeaHawk Island 44 with a bottle of a tin booster. I purchased three gallons of it and two bottles of tin booster at the Island Water World on Curacao.
The manufacture of this green copper antifouling paint strongly suggested to remove the old soft paint completely. I did my best but had not enough time and cloths to wash off my entire Micron CSC. It is possible to do with water or especially with an Interlux paint thinner 216 or boat wash 202. It just takes time and I had only one week at the boat yard. I followed the manufacture recommendation in regards to sanding the bottom though.
One gallon per coat. Two full coats and third one in high wear areas such as the one directly under the waterline, under the keel, the bow and the rudder.
Boot top
Teflon paint for my boot top also did not work well. This time I bought single component red epoxy enamel. I removed almost all old coats including those of two-to-three previously painted waterlines.
I put three coats of the new boot top.
Polishing
I have seen it many times how boat owners spend their time with their beauties. They polish it from dawn to dusk rather than sail them. I didn't want to join their party. However, the experience taught me that unprotected gelcoat becomes rusty and dirty very quickly. It then needs to be clean more often and as a result of each scrubbing less gelcoat is left overtime. Therefore, this time I got a bottle of wax, a polishing pad attached to a drill and worked out all my top sides.
Next time I should probably restore some of the gelcoat. I saw how one of the fellow sailor did it and it looked ok. He said that it was very easy to work with gelcoat and matching a color was not a problem - white is white.
May 2012. Cape Canaveral, Florida, USA
Gelcoat
Gelcoat above the waterline was worn because of constant cleaning. I decided to restore it. I bought two-component gelcoat and put 4 or 5 coats of it approximately half-way up from the waterline around the hull. The best result was when I sanded it after each coat.
Antifouling
It is impossible to buy my favorite SeaHawk Island 44 paint in the US because it exceeds some environment protection norms. The best I could get was Trinidad, still better than Interlux.
May 2014. Piscadera Bay, Curacao
SewHawk Island 44
I put two new coats of antifouling with tin booster before crossing the Atlantic.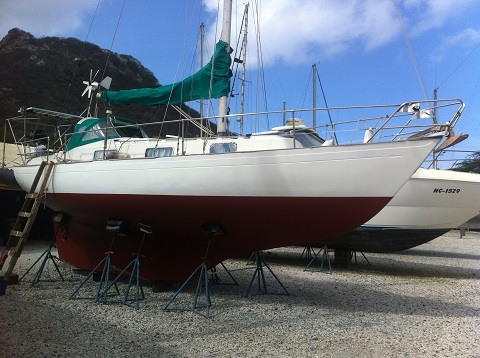 July 2015. Piscadera Bay, Curacao
Off the waterline!
During routing antifouling I decided to get rid of the waterline. It was painful cleaning it every week and repainting it every year.
I put 4 coats of Interlux epoxy paint 30-40 cm above the waterline and then covered it all including the bottom with red SewHawk Island 44. As usual I used two coats with tin booster. It worked perfectly. No more topsides cleaning!