Miscellaneous systems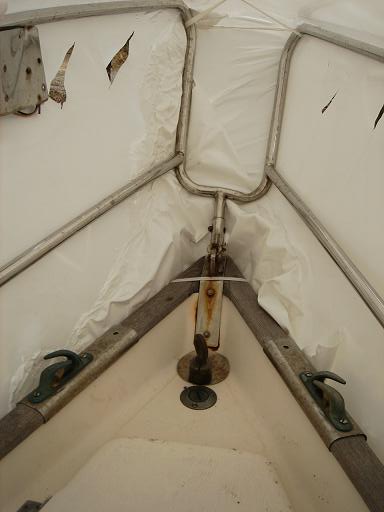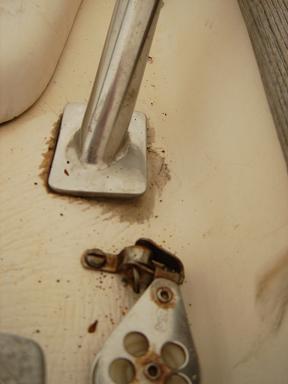 December 2008. New Bedford, USA. Pulpit, pushpit and stanchions
The pulpit is bended on the starboard side. As you can see on the picture, its base does no longer sit at the deck. It was sealed with a silicon but is likely leaking.
All stanchions, pushpit and pulpit need polishing and lemon oil.
The teak rail on the bulwark needs cleaning and varnishing. The same applies to the teak rails on the cabin top and the companion way.
April 2009. New Bedford, USA. Bow rail as they call it here
Niemiec Marine refused to fix my pullpit and suggested nearby Ocean Marine Fabricators. Steve had no problems with replacing the bended part of the bow rail and did an excellent job for two hour labour charge of $150.
Cockpit grating
The grating in the cockpit had a cutout for the Edson pedestal, which I threw away. I ordered couple of 6-foot teak timbers from West Marine to replace the short planks with long ones. I also drilled four holes in the cockpit floor and epoxied four 3-inch bolts sticking out from underneath of the engine compartment and to be used for securing the grating from above the deck with nuts.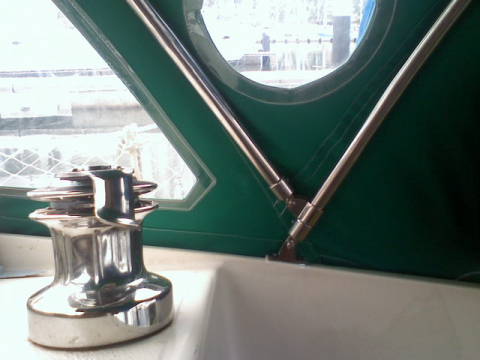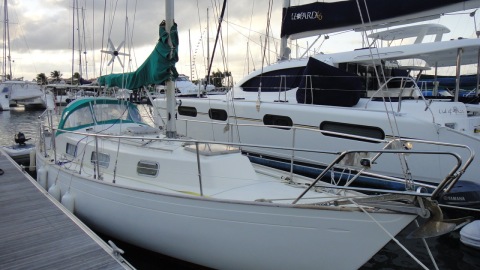 Lifelines have torn apart twice now. So, finally I got rid of them and put new stainless 1-inch tubing instead using existing stanchions and various connectors such as 90-degree elbow and t-type. This one day project cost me in St. Lucia around $500US.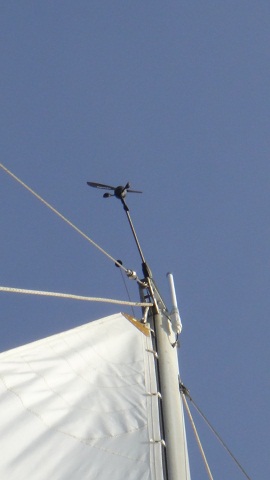 IslandTimePc sells Ubiquity Bullet 2HP WiFi router with a direct-attached antenna, hence no signal loss. The router is very compact and waterproof. 12-volt power is injected into the Ethernet cable. Hence, there is only one CAT-5 PoE wire that goes through the mast. Inside the cabin. CAT-5 is connected to another WiFi router like an ordinary DLink one but also 12-v powered for convenience. All onboard computers, notebooks, hand-held, etc are connected wirelessly to this router.
I was this setup first on Hippie Hip sailboat in Canaries, when I was helping to configure the system. I like the idea and decided to install the same system on my boat. It works great! The router on the mast is configured through the web interface: just scan for available networks, select, press Change and Apply. And everybody on the boat has Internet!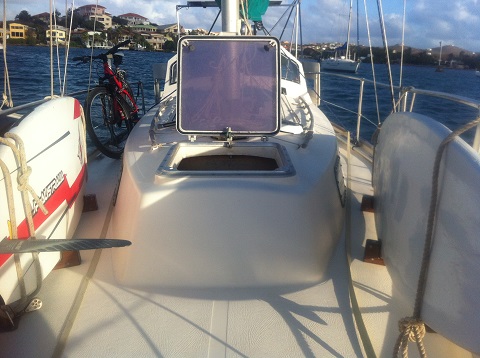 February 2016. Curacao. Windsurfing board holders
I purchased one second hand board (JP Australia, 110L) in good conditions and we found another one (Mistral, 120L?) broken on a beach. I fixed it and painted. To keep them both on board when sailing and protect the deck and the boards, I made wooden holders secured to the deck.