Plumbing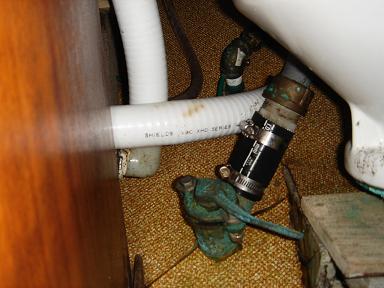 December 2008. Got to redo it.
New through-hulls, seacocks, vented loops and most hoses with new clamps are on the list.
The green seacock on the picture had no mushroom head on the outside of the hull and its stem was just glazed into the bottom. I was able to knock it off with a couple of strikes by a hammer.
There had also been other deficiencies in plumbing system, for example, a head's intake had no venting loop, which could result in flooding and sinking due to well-known siphon effect. The bilge pump had no seacock, which could end up with the same tragedy if a hose gets loose due to a single corroded clamp, for example, when the boat is left unattended.
I also found that the chainplates had been grounded to the seacocks in the head compartment for lightning protection. In case of a direct lightning strike, the seacocks will fail to dissipate any significant charge through water due to their small size and are likely to be blown away. I'm going to install a larger plate and use it for a dual purpose: a lightning protection and an SSB ground.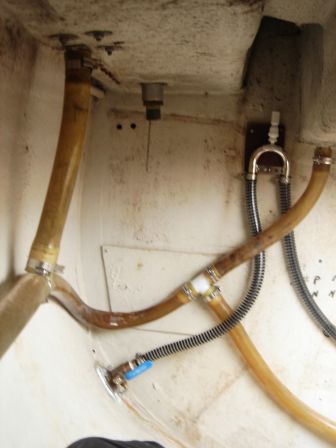 March 2009. Redoing plumbing
The 2-hole deck and 1-hole cockpit seat 1 1/4" draining system on each side had metal tees that were too short and had not barbs on them. The hoses had been easily slipping off. I replaced them with longer barbed polyethylene tees and put new 316 SS clamps.
Chris from Niemiec Marine made a simple SS pickup bracket (a flat bar with a mounting platform on one side) for a bildge pump and a floating switch. I installed a new higher than the original volume Rule pump (1500 gpm) with the switch that is now connected to a 3/4" through-hull via a vented loop that is mounted in a cockpit locker and can seen on the picture.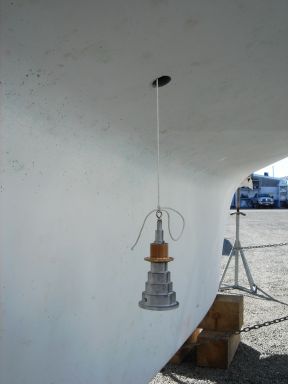 Through-hulls and seacocks
All through-hulls and seacocks have been replaced by now. In all cases except for the engine water intake, I used Groco bronze flanged seacocks with mushroom through-hulls. For the engine intake I renewed the original combination of a bronze through-hull with a strainer and a bronze ball valve.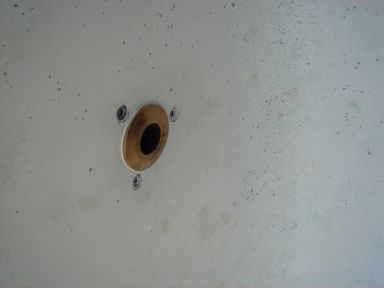 I've ordered the waterless air-vented toilet, which does not need any holes in a hull. This reduced the number of through-hulls by two, one big and one small. Plus it eliminated the complexity of vented loops, smelling pipes and a holding tank.
The cockpit has two 1 1/4" seacocks and barbed 1 1/2" hose-end fittings. A portside deck and cockpit seats draining system is tee-d to one of them.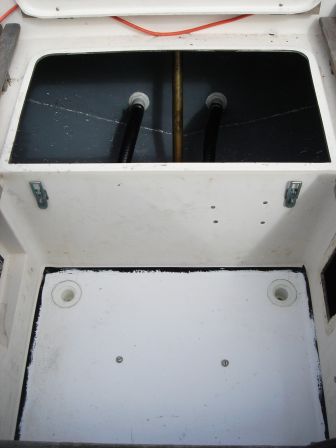 I have heard that draining a full cockpit through two 1 1/4" holes is far from being satisfactorily fast in the following seas. Therefore, I added two more 1 1/2" flush-mounted drains in the cockpit floor aft and connected them to two flapped valve plastic through-hulls in the transom above the water line. I also tee-d the starboard side deck and cockpit seats draining system to one of these transom through-hull.
Here is a summary of the seacocks/through-hulls:
| Function | Size | End Fitting | Type |
| --- | --- | --- | --- |
| Head's sink drain | 3/4" | 1" barbed | Groco flanged bronze |
| Galley's sink drain | 1" | 1 1/4" barbed | Groco flanged bronze |
| Sea water intake | 1/2" | 1/2" barbed | Groco ball valve, bronze |
| Bildge pumpout at the waterline | 3/4" | 3/4" barbed | Groco flanged bronze |
| Cockpit/deck drains, two forward | 1 1/4" | 1 1/2" barbed | Groco flanged bronze |
| Cockpit/deck drains, two aft above the waterline | 1 1/2" | 1 1/2" barbed | Plastic through-hulls with a flapper valve |
| Engine exhaust, above the waterline | 2" | 2" barbed | 90° elbow bronze through-hull |
The total of 9 holes, 5 of them are below the waterline, one at the waterline and three above the water line. To make it eleven, there are two more holes for the depth and speed transducers, which increases the number of holes below the waterline to 7.