Sailing Vessel Beruta Ship's Log
Burglary - marina Zar-Par in Boca Chica, Dominican Republic, is no longer safe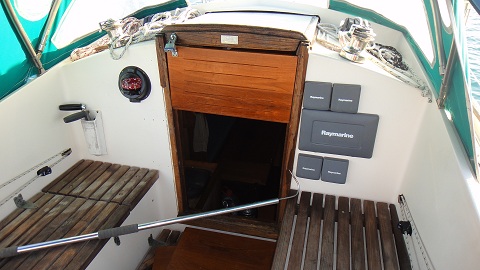 7 January 2013
I locked Beruta around 8:45AM and left the boat for the day. I needed to go to Santo Domingo. When I came back around 4PM, I found what you see on the picture. The door was broken with my own fishing hook. They stole VHF handheld radio, Magellan GPS navigator, Sony bookreader, Netgear Wi-Fi router, Canon inkjet portable color printer, two USB memory sticks, Mares speargun and other minor items such as a pocket knife, dinghy lock and the key for the marina bathroom, for which I paid 20 dollar deposit.
It appears that someone local swam to the boat either from the beach or from the nearby island where I and my girlfriend had been robbed three years ago. They were in a hurry because not all the drawers were open. They just took whatever was in sight. It seemed like they were looking mostly for money and credit cards because they did not take my purse with other documents, just threw everything out of it.
It also looked like someone in the marina or close to the marina was watching me and they knew that I had left for the day. There were four more boats bigger than mine on the adjacent moorings unlocked and probably unoccupied at that moment. Why did they choose my locked boat?
One more thing to mention. I have seen it so far only in DR. When you arrive to the country, your boat is searched by three different officials. I don't want to say anything bad about them, but they do know what you have on the boat and may pass this information to criminals. Corruption is common everywhere.
I reported the burglary to the marina. They said that this was the first time it happened and they were going to do something about it. They helped to file a report with the Coast Guard and said that we needed to wait. I also reported it to noonsite.com
Because it did happen, I would like to warn other sailors that it is not wise to leave your boat unattended while on the mooring the marina Zar-Par in Boca Chica, Dominican Republic.