Sailing Vessel Beruta Ship's Log
Cat Island - Exuma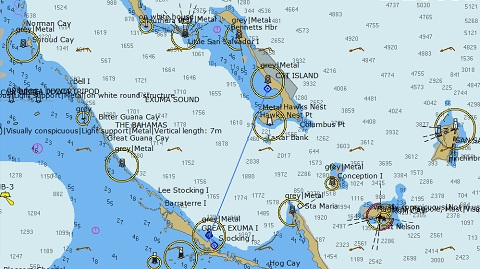 8 December 2012
I left Fernandez Bay at 7AM local time heading south towards George Town. Course 210° M. First hour I helped Beruta with the engine - the wind was weak but the rest 40 miles I was sailing at good speed making up to 7.4 knots over ground! The current helped a bit. Perfect weather. 15-20 kt ESE wind, course 60° to the wind. After some time the autopilot ordered to take a reef. It was not able to hold Beruta on course complaining that its motor stalled.
Right before leaving the bay I caught a small tuna. A fish soup from the head and the tail with one third of sea water instead of salt, made my lunch, traditionally served with 100 grams of vodka. The rest was fried and eaten with rice at dinner.
At around 3PM local time I entered the straight between Exuma and Stocking island, lowered my sails and dropped the anchor behind the island. Ironically, it was raining again. Last time I was here, it was also raining and the chart said to navigate this route only in good visibility and weather.
9 December 2012
On Sunday I made a trip around Stocking island unsuccessfully trying to get to the volleyball beach. Oh, well, instead of beach volleyball I swam in the big waves on the Atlantic side of the island. I put the pictures of Stocking island in a separate album.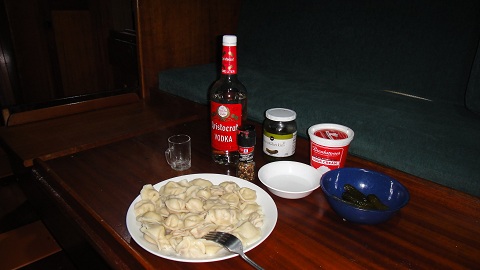 10 December 2012
Monday I moved to the George Town harbor to get some provision and better wifi signal. In lake Victoria, accessable by dinghy, there was free water on the Market dock. So I filled my tank and 3 canisters. There was also the Shell dock where I got 2 cans of diesel and gas for the outboard. The supermarket was expensive as usual but has good varieties of food. There were two major banks: Scotia and Royal. The last one was difficult to deal with when I wanted to exchange some currency. They asked for two pieces of ID and a cruising permit, which of course, was on the boat. Scotia bank mentioned that the cruising permit was required but had no problem changing Bahamian dollars to US even with a single piece of ID.
11 December 2012
Russian pelmeni production on Beruta! Wow! It was great! Delicious too! Especially with "Aristocrat", pickles and pretty company! Ha-ha.
All pictures from the Bahamas are on Picasa.