Sailing Vessel Beruta Ship's Log
Long Island - Rum Cay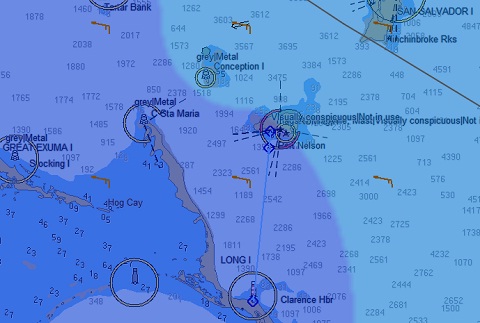 27 April 2012
The night before was a bit unquiet. Not much rolling, just the sound of 20 knots wind blowing on-shore made me somewhat nervous. I set the anchor drag alarm with a radius of 0.01 nm but still was not sleeping well.
There was nothing to do here in Clarence Town. The grocery store had very limited provision and the liquor one was 7 miles away; therefore, I decided to leave the first thing in the morning. I lifted the anchor at 7 local time, set the jib, then double-reefed main and off I went to Rum Cay.
The distance is 33 nm. With the eastern wind 19-23 kts and the speed of over 6 kts, I should be there at the lunch hour.
I'm sailing 50 degrees into the wind with quite a heel but not much pounding.
The sky is all grey, luckilly no rain so far. The weather pattern in Bahamas is abnormal to what many sailors are used to. Usually when the atmospheric pressure drops and is low, the weather becomes bad. There will be showers and thunderstorms, gusty wind, etc. And when the pressure rises and is high, the weather is wonderful with light wind, sunny skies and good mood. Here it is the opposite. Yes, believe it or not. Despite not wearing any cloth, I do not feel that I'm in tropics anymore. In fact, I'm not. The tropic of Cancer is now almost south of Beruta.
By 10 o'clock the wind deminished to more pleasant 15-20 kts. Half past noon I was crossing the reef. I set the autpilot to stear against the wind while taking sails off, then motored for about 5 cables to the anchorage close to the mailboat dock in Port Nelson.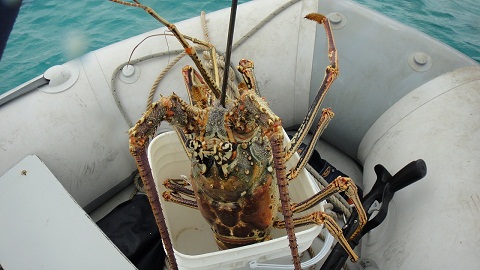 After lunch I paddled to the shore. The grocery store did not offer very much. They were waiting for a mailboat to arrive that night or next morning, which was supposed to bring more products to the island. I then walked to the marina where met wonderful international crew on three boats and was invited for dinner. The party was on the 80-foot power boat belonged to Chris, 32-year old military boat-building company owner. I brought Bacardi rum, so that everybody remembered my name and of course a couple pieces of marlin. The folks there had also fresh tuna, sushi, good wine and even better company. Next day we decided to go snorkeling together.
28 April 2012
There it is! The huge, huge lobster. Yammy! At the end I was diving with Mark, backpacker and couchsurfer from England who was sailing with an Australian fellow Richard on his 42-foot cat. They also hosted Mariana from Belgium.
I was about to leave for Conception Island, when I saw Tanqueray entering through the reef. Mike and Sarah invited me for the dinner, so I couldn't resist. It was a bit late sailing to Conception anyway. I would have arrived there by a sunset. At the dinner I met Sarah's sister Cindy and her boyfriend Matt. They caught tuna on their way, hence besides drinks, salad and a fish soup, we had delicious sashimi. Add to this menu a desert and you'll get a picture of the enourmous amount of food we consumed. Well, it was just me who had half the lobster tail for lunch but my hosts had been sailing for 10 hours and had not eatten at all. They were hungry. The most intriguing desert was however, the shark movies! The guys filmed hammer shark beneath their boat scavenging tuna guts and when they were on Crooked Island, a videoclip of fishermen feeding a bull shark and a reef shark. You don''t want to be anywhere near when these devils are agitated by blood.
All pictures from The Bahamas are on Picasa.