Sailing Vessel Beruta Ship's Log
Sao Jorge - Terceira, Azores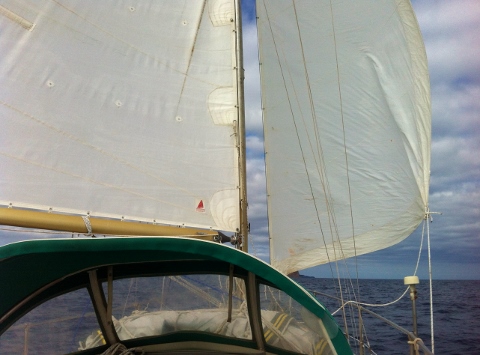 4 July 2014
The distance from Velas, Sao Jorge to Praia da Vitoria, Terceira was 63 nm if I would go along the south coast of Sao Jorge (see the route). If I went on the other side of the island, then it would have been 10 miles longer. It meant 13 to 14 hours of sailing in light wind. To get to the destination before the dusk, I would need to leave before 7AM. Therefore, I got up at 6.
There was no wind at all. I left the anchorage using the engine. Later in the day, the wind was on and off. It varied from 5 to 10 kts, mostly dead astern but sometimes broad reach or even abeam and at the end it was close hauled and dead ahead. 8 hours out of 13 I was motorsailing making about 5 kts.
When I rounded Sao Jorge, I was able to see all five islands: Faial, Pico and Sao Jorge astern, Graciosa to the portside and Terceira straight ahead. The other four Azore islands (Flores, Corvo, Sao Miguel and Santa Maria) were too far from my position.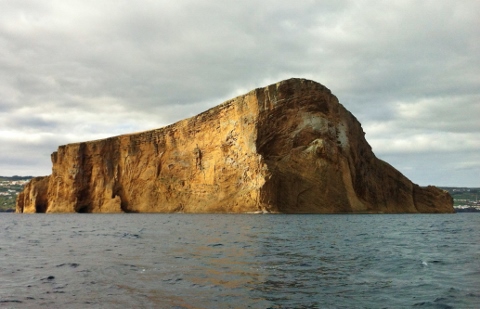 When I came close to Terceira, there were hundreds of dolphins (common bottlenose, I think) in the area and even more birds, Cory's shearwaters. They were flying over dolphins trying to get the leftovers from their supper.
On the picture you can see Cabras Islet, Big Islet. There is also Small Islet to the left of it. If you are interested, then there is a Wikipedia article about it.
Praia da Vitoria was located in the protected harbour. The anchorage was just outside of the marina. There were a number of sailboats there. I dropped the anchor in 6 meters of water, pulled back with the engine and it did not hold at 1,800 rpm. It was holding at 1,000 but that was it. Hm... Hard sand? I tried a few times to dig it in but no luck. Well, hopefully the night would be quiet and tomorrow I might test a different spot.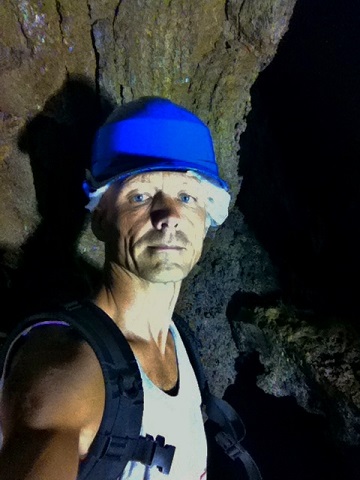 July 5-6, 2014
The weekend I was biking around the island. Saturday afternoon I tried to reach Angra do Heroismo, which is a capital of the island but ran out of time somewhere in the middle of the road. Sunday I started earlier around 12:30 and went to Algar do Carvao, the cave formed by lava during the volcano eruption in 18 century. They charged 8 euros to visit two caves. I thought that the caves were in the same place but I was wrong. Another one, Gruta do Natal, was 6 km apart. From Praia da Vitoria the distance was 25 km and the elevation around 570 m.
It took me 2 hours to get to the first cave. Both caves were for tourists. They had stairs and lights. Probably they were just worth the trip itself but not the money. When I came out of Algar do Carvao, my front tire was flat. Hm... The first thought was that somebody punctured it. No, it was the natural thorn. I fixed it. When I came out of Gruta do Natal, the same happened again! This time it was a metal piece of a wire. When I returned to the boat, it was half flat again!! Damn it! Was it a sign or what? Anyway, here was my track.
The way back took 1 hour 30 minutes. I stopped at Contenete supermarket to buy some fresh bread, meat and fruits.
In the marina I talked to my friends from Xanadu and shook hands to the crew of another Russian charter boat.
All pictures from Terceira are on Google+.