Sailing Vessel Beruta Ship's Log
Tutuila, American Samoa - Upolu, Samoa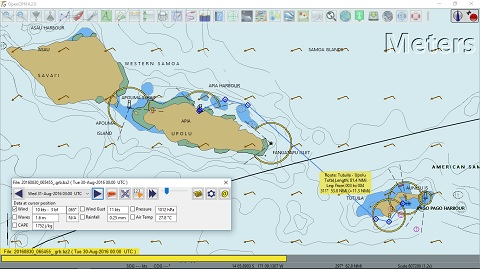 30 August 2016
Spending two weeks on Tutuila was enough, particularly when I spent most of this time aboard finishing my three video-blogs. The first one I had started almost a year ago! Now I need to find an unlimited fast Internet to upload them to youtube.
The main attraction of Tutuila is the National Park of American Samoa - a must visit. The rest is less interesting. Beware of dogs! Carry at least some rocks or a heavy stick or something better like a machete to defend yourself. You may be bitten with bare hands in a village. It is ok to hit them, I did check with authorities! Provisioning is not as good as in French Polynesia. The anchorage seemed to be secure and my CQR with 30 meters of chain held good in 7-8 meters of water. It could be windy despite of the mountains and it could be smelly due to the fish can factory nearby. There are BlueZone WiFi hotspots reachable from the anchorage at $20 USD per week for 1GB. A dinghy can be left almost anywhere: in the marina, at few pontoons or even tied to a palm-tree.
Water and fuel could be jerry canned from a gas station on a shore. There is also a laundromat on a corner of a main road and the one that goes to Fagasa, 10 minutes walk from a gas station, where I leave the dinghy.
The cost of a visit American Samoa is a bit expensive: $150 USD if you stay no more than a week. Otherwise, you would also pay for the anchorage. The rate for my boat was around $13 per month.
The Apia, the port of call of Samoa, former Western Samoa, lies just 80 plus nautical miles from Pago Pago. Another words, I would need to sail there overnight. I left the anchorage at 15:30 local time. I motor-sailed around Tutuila and stopped the engine 3 hours later when I cleared the island.
The wind was supposed to be north-east, 10 kts. The majority of the route I would have sailed on a beam. That held true for the beginning. Then the wind died to 3-4 kts and later became about 5-7 kts apparent. I had to motor to Apia all the way.
My AIS continued to give me a headache. Somehow the chart-plotter kept loosing the connection to AIS in the vicinity of Tutuila while the AIS itself happily showed the green light. The chart-plotter had done it before a few times, even in the open water but it had been cured by restarting the chart-plotter. Now it established and lost the connection on its own much more frequent than before. I thought that there could have been some kind of strong interference. Also, the plate of my compass had been tilted to one side when I was anchored in the bay. I was wondering what was there under the boat. To puzzle my dear reader more, I should say that the undersea plate, on which Samoa islands are located, moves at a speed of 3 inches per year towards China!
When I was far enough from the island, the AIS started to work normally but then displayed different errors on a screen. Something like "No sensor position in use" and "No SOG data available" meaning that the AIS was not able to receive the satellite signals. The green LED was replaced by a yellow and a red ones. I thought that it could be the antenna or the antenna cable. Then it worked and failed and start working again.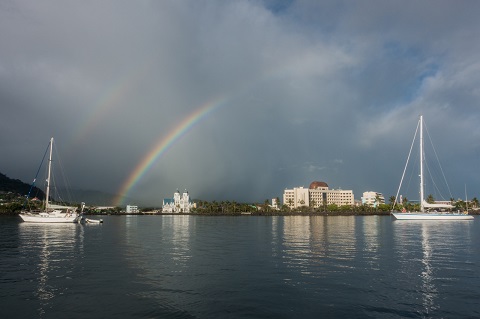 1 September 2016
Yeah! My August had only 30 days instead of everyone else's that had 31. I crossed the International Day Line from east to west and skipped the day! Well, of course this was not a time machine, just a negative UTC offset for a local time changed to a positive one. To be precise, -11 became +13! The time, therefore, did not change, just the date.
I built the route away from Upolu coast by about 8 miles, basically where the depth was way too deep for fishing. I knew that I would have sailed along the coast at night I wanted to minimise the chances of collision with fishermen boats. At dawn I was about 15 miles from Apia. My speed was 3.5 - 4 kts. It seemed to be quite strong head current all the time.
I arrived to the harbor at 9:30AM. I called the harbormaster. He answered only after my third call. I did email him from Pago Pago informing of my arrival but I did not receive a reply. He asked where I wanted to stay: at the anchorage or in the marina. I asked about prices and he said that they were the same! Hm... I thought of rats and cockroaches, as well as docking single-handed, and decided for the former.
On the anchorage there were one cat and another steel boat. A couple was waiving me from the Australian cat. I came close and the gentleman said that the anchorage was free and I should not have asked about prices.
As soon as I dropped my CQR, the marina called me and informed that some officials were there and if I wanted to check in, I should have come ashore. Ok, I lowered the outboard and off I went.
The officials were from the health authority and the customs. I filled number of forms and they left. I asked the customs officer about visiting Savai'i island and he answered that the customs did not allow this and that I could go there by ferry. I was told to go to the immigration in town later. When I came back to Beruta, the marina called me again and said that the immigration officer was in the marina. I motored there again and checked in with the immigration. The officer collected my passport and said to pick it up later in his office.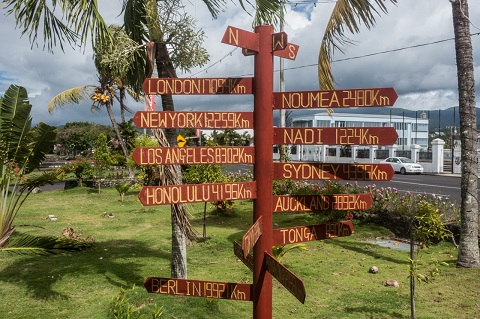 Later when all three crews were sitting aboard the cat and chatting, the marina called again and said that the quarantine guy was waiting for us. We checked in with him too. No one of the officials wanted to go to see the boats, which was good as I still had some fruits and vegetables for my lunch.
When I came to the immigration office, located in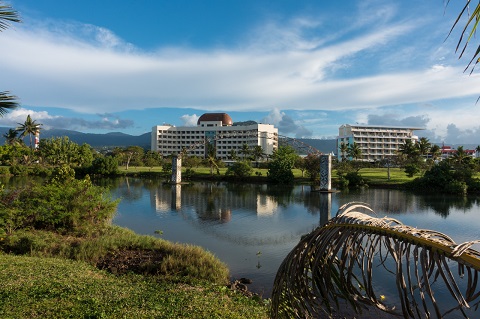 a big government building with a brown thing on its roof, which looked like an upside-down boat from the anchorage but in fact was the mimicing of a traditional fale's roof, the officer returned my stamped passport and said that if I wanted to visit other island, then I could go to the 4th floor and ask the lady named Lolo for an authorization letter. And I did it and got the letter in 5 minutes or so, free! Noonsite.com said that "the cruising permit" was $100.
Then I changed some US dollars for Samoa talas in a bank (the rate was roughly 1 to 2.5) and got the Digicel SIM card for 20 talas plus 24 talas per month of Internet limited to 1GB. There were no working WiFi hot spots in the anchorage.
I stopped by the Visitor's Infromation Center. It appeared that I arrived to Samoa just in time for Teuila Cultural Festival that would begin on Sunday. I also got the information about climbing the volcano crater in Savai'i and R. L. Stevenson museum in Upolu. Lots of things to do!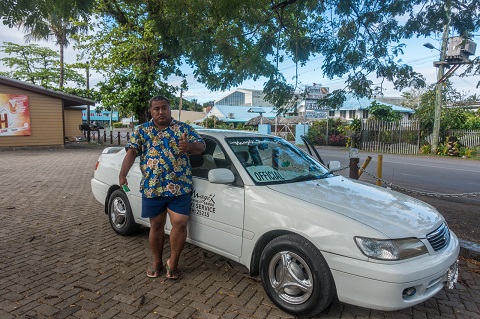 4 September 2016. Taxi trip around the island.
Small car rental in Apia was $120 talas per day. Taxi driver was $100. I chose the latter. Call Junior Tautua, his number is 751-8982. We started at 8AM and finished at 5PM. A beautiful island and a wonderful tour!
The first stop was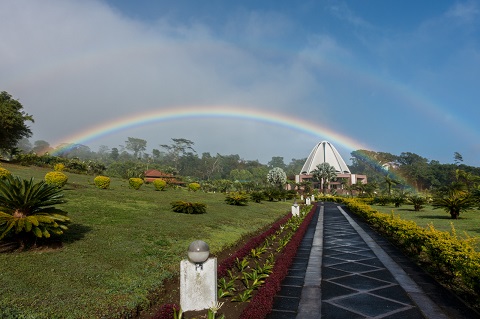 Baha'i Temple surrounded by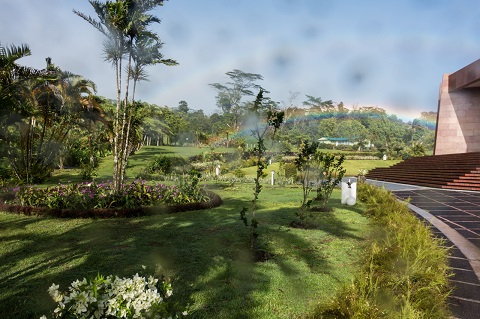 amazing gardens. This was one of the seventh temples in the world. The first one had been built at the beginning of the 20th century in Ashabat, Turkmenistan but later it was damaged by an earthquake and demolished. Other temples were located in USA, Uganda, Germany, Australia, India and Panama. The headquarters were in Israel. The religion was founded by Baha'u'llah in the 19th century in Persia.
The second stop was at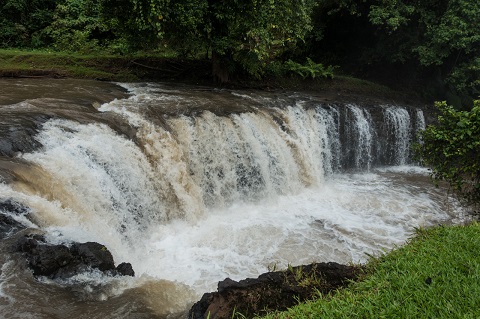 Togitogiga waterfall - an excellent recreation area in the middle of a rainforest.
Then we crossed the mountains from the north to the south shore and visited the most expensive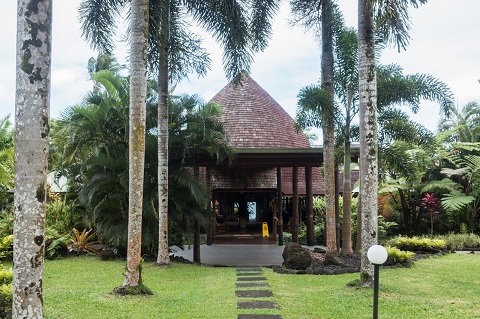 Sinalei Reef resort built by an Australian married a Samoan girl. It was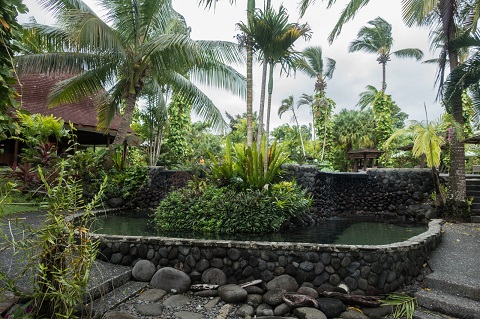 a paradise!
Couple of more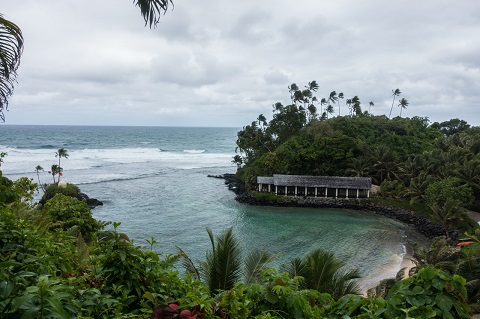 picturesque stops along the coast and a nice Sunday buffet in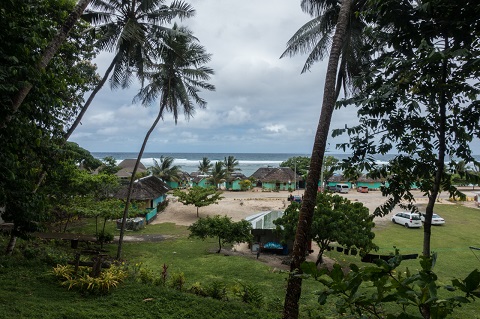 Lalomanu village where Samoan family served local food such as baked taro, palusami (a mixture of taro leaves and a coconut cream), octopus, poisson cru, fried fish, grilled baby pig and Chinesse noodle.
Our last stop was at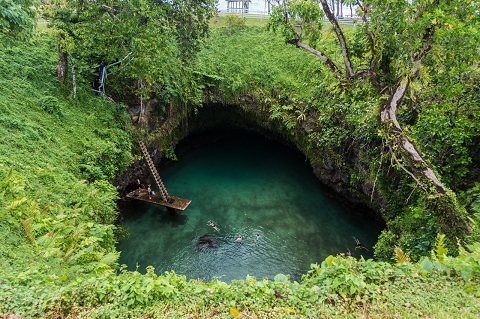 To Sua Ocean Trench, where I swam in two large holes connected underground. The trench did go to the ocean but with a strong alternating current and no lines I thought that 15 seconds swim in an overhead environment could be dangerous. There was also an interesting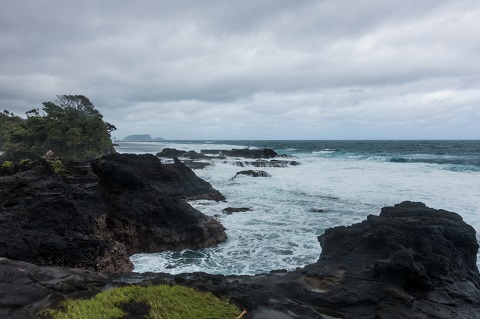 lava field awash at the beach.
At night I went to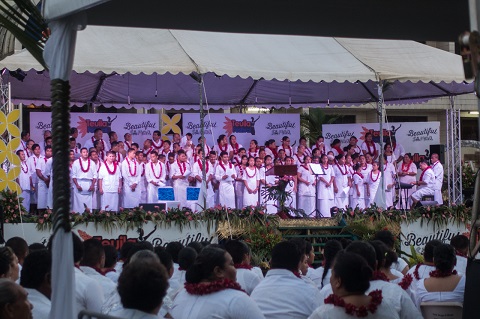 The Teuila Festival choral exhibition.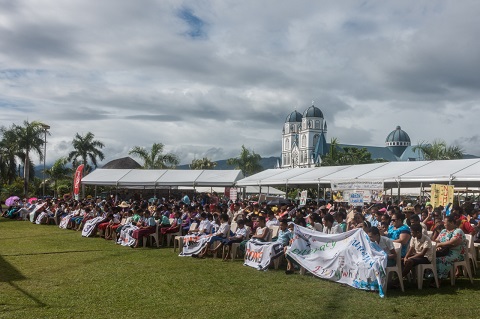 The official opening was next day.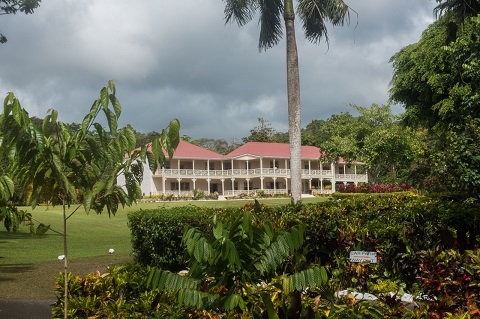 5 September 2016. Teuila Festival Opening.
It was an interesting cultural event in Samoa. I only attended the first day but was quite happy to see it, beginning with
the police parade and raising the flag, official ceremony, school children reading competition,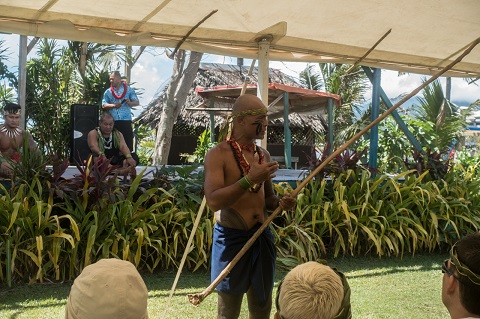 Samoa Cultural Village Show and lots of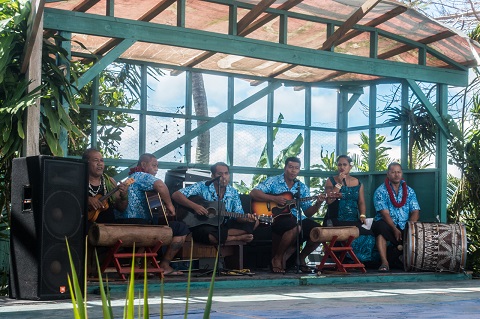 music and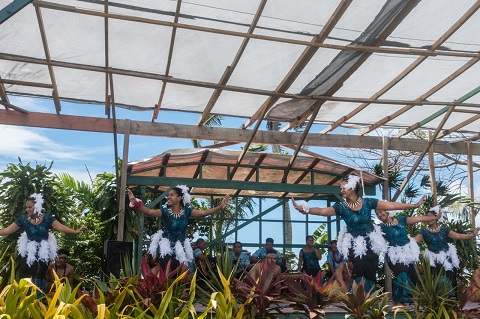 dances in the village and on the main stage in front of the government building.
9 September 2016. R. L. Stevenson museum.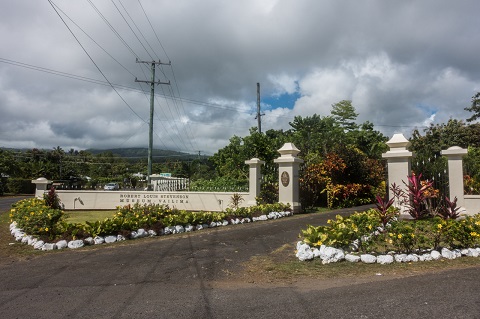 The museum was on our way during the last Sunday taxi ride but it was closed. This was actually good because it took me the whole day to explore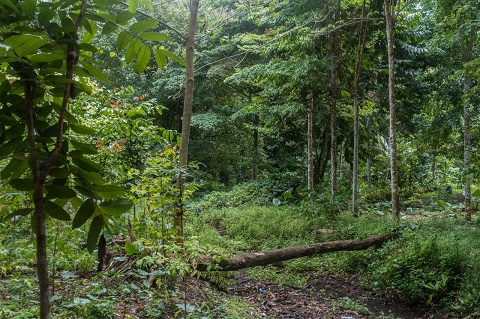 the area!
In Upolu I met a couple of Australian sailors (Brian and Kerry) who had never heard of Stevenson and thought that in Russia we were the same. Oh, poor Australians! They could not imagine that "Treasure Island" was the bestseller in Russia!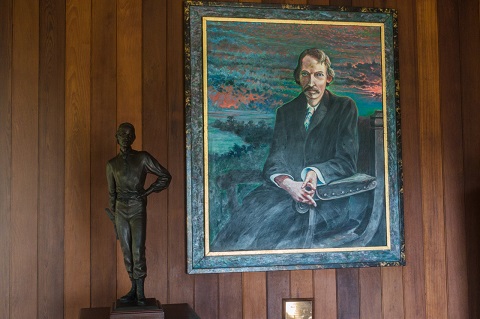 R. L. Steveson lived his last 4 and a half years in Vailima village and his grave was on top of Aeva mountain, a 30-minute hike from his house. Now Samoans sell Vailima beer!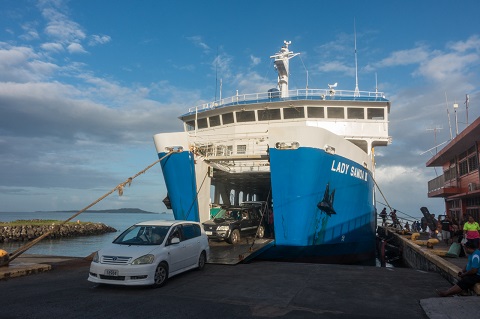 15 September 2016. Ferry trip to Savai'i.
Initially, I had planned to visit Savai'i by boat but due to controversy of the official regulations, i.e. the Prime Minister's Cabinet allowed such voyages with their permit but the Customs did not, and also due to more western location of the island and hence, with south-westerly wind rougher passage to Tongo from there, I took a ferry.
The ferry left from Mulifanua Warf at 6:00, 8:00, 14:00 and 16:00. To get to the Warf, I needed to take Pasi-O-Vaa bus from the bus terminal near the fish market in Apia. The schedule that I got from the visitor's center listed four morning buses: 6:00, 6:30, 8:00 and 8:30. A day before I had tried to catch 6:30 bus and there was none. I was told by a local that there was only one bus for each ferry, i.e. at 6:00 and 8:00, as well as there must have been a bus around 4:00 to get to 6 o'clock ferry. Anyway, this time I was lucky with the 6 o'clock bus and for $5.5 tala in about one hour I arrived to the ferry terminal at the north-west corner of Upolu, just passed the airport.
The ferry cost $12 tala one way for foot passengers and $90 for those with a car. Therefore, I decided to get a car in Savai'i. Apolima Straight crossing took little bit more that an hour. I rented a car for $140 tala plus $300 deposit and no foreign driver license endorsement fee. In Upolu rental companies charged $21 tala for this but the rental fee was less, between $100 and $120.
I should have known that visiting the largest Samoan island, Savai'i, for half a day did not make much sense but I did it anyway. All I was able to achieve was to see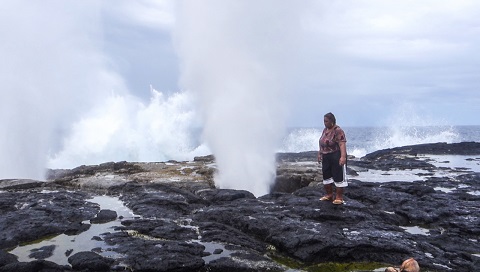 the Alofaaga Blowholes on the south side of the island in Taga village,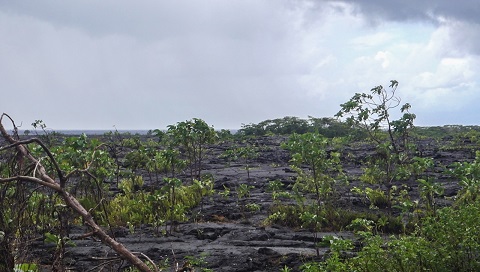 Saleaula Lava Field from the 1905 eruption between Saleaula and Mauga villages and to completely circle the island. Besides the driving time, I had about one hour to make various stops but there was heavy rain most of the time, so I did just few. The one thing that I would have really liked to accomplish were climbing Silisili mountain (1,800 plus meters) off A'opo village but it required 2-3 days and a local guide. There would have been an interesting hike around Tafua crater in Tafua peninsula if I had more time. It takes an hour, which I did not have because the last ferry to Upolu leaves at 16:00. There was beautiful Tafua Rainforest Preseve, which I drove through but I did not see the trail to the crater.
I have seen no sailboats around the entire island. It would have been uncomfortable staying alone at an anchorage in Asau or Matautu Bays in front of the densely populated shoreline.
Al in all, the ferry trip to Savai'i was better than nothing.
All pictures from Upolu are in Google Photos.
The video blog "The Life and Adventures on the sailboat Beruta in Samoa" is now available in Russian with English subtitles.